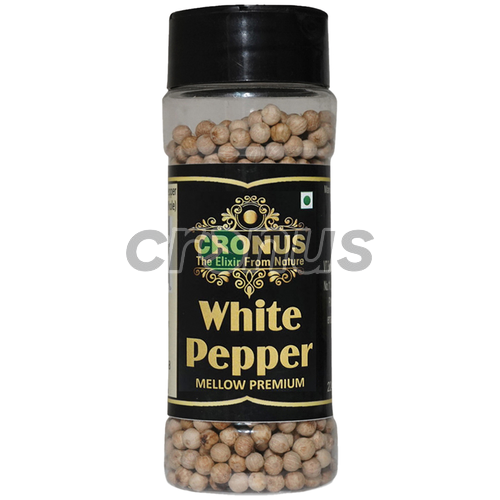 White pepper is the offspring of black pepper. Black pepper is often referred to as the "King of Spices." This spice also comes with yet another excellent culinary partner. That is the white pepper. As its name suggests, white pepper comes in white and grey tones. They have a form that is similar to black pepper.
Piper Nigrum, the scientific name for white pepper, is a member of the Piperaceae family. Any recipe benefits greatly from the flavouring power of white pepper. Therefore, white pepper will be the ideal addition to your spice collection if you enjoy black pepper.
White Pepper Procurement Procedures
Chemical, mechanical, and biological methods are frequently applied to white pepper. White pepper is only produced from pepper plant seeds. Peeling the black skin is the main processing step. This procedure is known as retting. The perfectly ripe berries are next steeped in water for a week. The cover will fall off and the flesh of the pepper will soften.
The outer pepper is then separated from the seed by rubbing, leaving the seeds alone to dry. The white pepper is now at your disposal.
The Flavour of White Pepper
Whether white pepper is hotter or milder than black pepper is a matter of debate. White pepper does, however, taste hot in the mouth. Some claim that the flavour of white pepper is less complex than that of black pepper.
White pepper's flavour can be earthy or grassy. It might be determined by the methods of processing and post-production handling.
Benefits of White Pepper for Health
1. Contains a lot of antioxidants


The body uses antioxidant molecules to fend off free radicals. However, excessive levels of free radicals could be detrimental to your health. Many diseases have free radical damage as their primary cause. Some of these include obesity, diabetes, and heart disorders.


White pepper has more antioxidants than black pepper, according to research. Therefore, white pepper has a greater potential to fend against free radicals.
2. Anti-inflammatory qualities


Inflammation can be advantageous or harmful. Short-term inflammation is a typical physiological reaction of our body to illness. On the other hand, persistent inflammation can be unhealthy for you. Even some diseases could put you at risk because of it.
Piperine is found in white pepper. Studies have shown that piperine has anti-inflammatory properties. White pepper can therefore lessen inflammation as a result. White pepper also has the potential to effectively alleviate muscle cramps brought on by overstretching.
3. Eliminates gas


Flatulence can be lessened by white pepper (gas). Pepper's piperine is the element that helps to lessen gas. Additionally, it increases the stomach's production of gastric acid (hydrochloric acid). This promotes gastrointestinal tract efficiency and aids in digesting.
4. Improved digestion


By increasing stomach acid production, white pepper may benefit the gastrointestinal tract. The process of digesting requires this acid. White pepper also has fibre in it. The intestines' muscular action is aided by fibre. It will therefore make digestion easier.
5. Helps avoid headaches


A substance known as capsaicin can be found in white pepper. This chemical can lessen headaches.
By widening (relaxing) the blood vessels, capsaicin affects the body. It is because of how it affects neurons. Capsaicin promotes improved blood flow. This is how using white pepper can help you avoid or relieve headaches.
6. Boosts energy


In mitochondria, white pepper encourages energy synthesis. In a cell, energy generation is carried out by a specific component. Additionally, white pepper carries manganese. Numerous mitochondrial enzymes required for energy production depend on this mineral.
White Pepper Seeds Suppliers


Because of its special properties, white pepper is not found everywhere abundantly. Although supermarkets and reputed shops can be very good white pepper seeds supplier, they might not be found extensively at your local shops. The high demand and the health benefits of white pepper make it difficult to obtain. Including white pepper in your diet is definitely a step you should take for the overall health of you and your family.